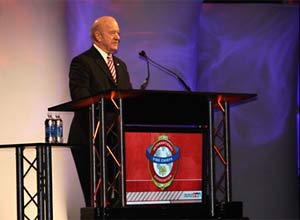 Photo Jamie Thompson
Acting U.S. Fire Administrator Glenn Gaines delivers an address to Fire-Rescue International in Chicago on Friday August 27, 2010.


CHICAGO — The fire service is still held in high esteem by the public but the trust and respect is "fragile," 2010 Fire-Rescue International was told Friday.

During an address at the conference in Chicago, Acting U.S. Fire Administrator Glenn Gaines pointed to a survey that listed fire departments as the most trusted of all groups in the community.

But he warned the fire service can not take this respect for granted, and outlined measures to combat erosion in trust and confidence.

"I recognize that that trust is fragile and that many things threaten this trust and confidence," Chief Gaines said.

Criminal activity both on- and off-duty, substance abuse, sexual harassment and discrimination are issues that can damage the perception of the fire service by the public, Chief Gaines said.

But when it comes to news reports of members of fire departments who deliberately set fires, Chief Gaines said he was against the headline of "firefighter arsonist" that is often used in such articles.

"I hate the term 'firefighter arsonist,'" he said. "Firefighters are not arsonists. We have arsonists infiltrating our profession."

During the speech, Chief Gaines outlined how departments can ensure their members are of good standing and can maintain the long tradition of public trust that firefighters are held in.

"I recognize many departments across the country are desperate for help," he said. "But I do not believe anyone is better than no one. I have heard many chiefs say we will take anyone. It's just doesn't work."

To maintain the fire service's reputation, Chief Gaines said departments must:
Develop and embrace organizational values
Have zero tolerance
High entry-level standards
Require public trust background checks
Chief Gaines became the Acting Administrator of the USFA earlier this year for the second time in his career, following Chief Kelvin Cochran's departure to return to his previous position as chief of Atlanta Fire-Rescue.
"A number of friends and associates have said, 'Aren't you frustrated that you've been thrown back into the hot seat?'" Chief Gaines said.
"I said of course not. It's an honor for me to represent the fire service at the federal level."
He went on to praise the efforts in the fire service to reduce line of duty deaths. Last year, firefighter LODDs were the lowest in more than 15 years, according to USFA statsitics.
Ninety firefighters were killed in the line of duty in 2009 — the lowest total since 1993, when 81 died, and the third lowest since USFA began keeping records in 1977.
"We are actually on a downward trend and I think a lot of the credit has to lie on your shoulders," Chief Gaines told the audience.
"Leaders of this great profession are taking safety and the prevention of injuries seriously."
By Jamie Thompson
FireRescue1 Senior Editor