WHEC.com
LOS ANGELES - On Friday, October 12, 2012 around 2:00 AM, Space Shuttle Endeavour will embark on one last mission, Mission 26. Endeavour will leave Los Angeles International Airport (LAX) and travel slowly through the streets of Los Angeles and Inglewood for two days along a 12 mile route to its final destination at the California Science Center.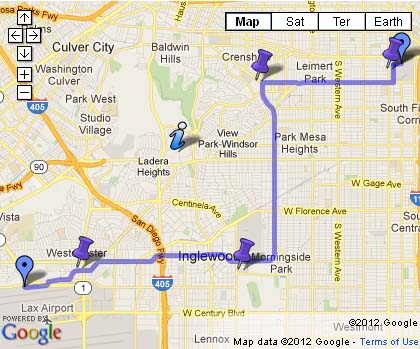 The Space Shuttle Endeavour's route to the California Science Center
Over the last few months, the California Science Center Foundation and various State and City Departments - including the LAFD, have worked with stakeholders to plan for the safe movement of Endeavour.
At 122 feet long, 78 feet wide and 5 stories tall at the tail, Endeavour will be one of the largest objects ever transported over city streets in Los Angeles. The combined weight of the shuttle and transporter is 170,000 pounds.
Due to the size of the shuttle - which will pass just inches from some buildings, there will be numerous rolling street and full sidewalk closures. Residents and business owners are asked to remain patient as the shuttle moves through their area. The following closures are anticipated:
Large crowds are anticipated, and organizers stress that much of the shuttle route will include fully closed streets and sidewalks. Due to safety concerns, nearby parking will be very limited. The use of public transit is strongly suggested.
The public is encouraged to visit Endeavour when it opens for permanent public exhibit at the California Science Center beginning October 30, 2012. Although the Endeavour exhibit is free of charge, it is recommended that visitors reserve a timed ticket online for $3, or $2 for Science Center members.
CaliforniaScienceCenter.org
Submitted by Brian Humphrey, Spokesman Los Angeles Fire Department