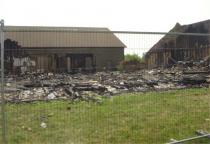 In this study, "Career Fire Fighter Dies in Church Fire Following Roof Collapse - Indiana," NIOSH spoke very specifically about the need to adhere to established risk management principles in the fire service. Further, it implored the fire service to utilize these risk management principles all the time. Photo courtesy NIOSH
---
There are few educational materials available to the fire service that are as comprehensive, illustrative and informative as the line-of-duty (LODD) death reports issued by the National Institutes of Occupational Safety and Health (NIOSH). Through its Fire Fighter Fatality Investigation and Prevention Program, NIOSH studies and provides insight into catastrophic events that have resulted in the death of one or more firefighters, and does so in a dispassionate, objective and matter-of-fact way. Although in the past NIOSH has been criticized for not issuing reports in a more timely manner, the reports are nevertheless essential reading for every fire officer because they not only highlight the causes of the LODDs, but they also provide suggestions on how to prevent such an event from occurring again. In short, they provide guidance on risk management.
Reports & Risk Management Principles
NIOSH is part of the Centers for Disease Control and Prevention, which is tasked with (among other things) protecting the health and well-being of firefighters and other professionals who face occupational risks on a daily basis. One key identifying characteristic of all NIOSH reports: The NIOSH investigators, regardless of the type of incident, put much of their comprehensive analysis into the context of risk management principles. They do not so much look to assess blame as to explain what happened, why it happened and what firefighters need to know so that the likelihood of a similar event happening again is minimized.
There is and has been a lot of talk in the fire service about risk management principles over the years, but few documents have compiled these principles and articulated their importance in as practical and useful a fashion as NIOSH's studies on LODDs. Indeed, a review of various NIOSH studies reveals that the agency usually attributes much of the trouble on a fireground to a failure to understand, implement and appreciate critical risk management considerations in various aspects or stages of a fire operation.
A Report That Stands Out
As is customary, in one recent study, "Career Fire Fighter Dies in Church Fire Following Roof Collapse—Indiana," Jan. 18, 2012 (www.cdc.gov./niosh/fire/reports/face201114.html), NIOSH provided a factual recitation of the characteristics of the department involved, including its leadership structure, the circumstances involved in the incident and the events leading up to the loss of a member of the fire service. They then put together an analysis with recommendations for practical application by all fire departments.
This study, however, was a bit different from the standard studies in that it spoke very specifically about the need to adhere to established risk management principles in the fire service. Further, it implored the fire service to utilize these risk management principles all the time. Although NIOSH LODD studies are essentially risk management documents in purpose and design, this report came right out and spoke about risk management as a skill that needed to be exercised in training and utilized on the fireground.
The principle behind all NIOSH reports can be summarized in the language of this one particular report, as it goes to the heart of the notion that not all fireground risks should be accepted without some degree of evaluation. Here are a few quotes from that report:
"Risk management principles established by the fire service are based on the philosophy that greater risks will be assumed when there are lives to be saved …"
"[T]he level of acceptable risk to firefighters is much lower (when compared against that when a life is at risk) when only property is at stake …"
"[M]ore caution should be exercised in abandoned, vacant and unoccupied structures and in situations where there is no clear evidence indicating that people are trapped inside a structure and (importantly, it should be emphasized) can be saved."
NIOSH, of course, does not create all the principles it relies upon in its evaluations, but rather adapts many that are already at work within the fire service. For example, in this same case study, NIOSH relied upon the writings of retired FDNY Deputy Chief Vincent Dunn. Dunn is an expert in building construction, especially truss construction, and its respective impact upon fire behavior. He is therefore a regular voice in the pursuit of improved fireground safety from a tactical perspective.
In the noted report, NIOSH goes to the heart of Dunn's work, sharing his overall message by stating: "When no other person's life is in danger, the life of the firefighter has a higher priority than the fire containment ... The protection of life is the highest goal of the fire service ... When a life is clearly threatened (emphasis added), there is no risk too great. At most fires, however, lives are not clearly endangered. At most fires, then, the priority of firefighting is the protection of the firefighters' lives."
Reports As Constant Reminder/Educator
NIOSH reports serve as a constant reminder to all fire officers and firefighters: Protecting firefighter lives is a matter of understanding, acknowledging and implementing principles of risk management and fireground safety on a regular basis. In many ways, it's as important as keeping our manual skills sharp and ready. But how many times have we had a chance to exercise even a few of the principles provided and explained in NIOSH reports? How many times have we concentrated a drill's objectives specifically on risk management strategies or other safety aspects, tactics and outcomes? Or, have we embedded risk management objectives into more familiar training on handline control, hitting hydrants or raising a ladder? On live fire drill grounds, at table-top exercises and in classroom instruction, there are always opportunities to integrate risk management and firefighter safety concepts into the training objectives; the latter two are particularly good media for doing concentrated risk management exercises. Of course, the principles discussed in NIOSH reports and other credible sources should always be exercised on any active fireground regardless of the nature of the alarm.
One valuable feature of NIOSH reports: The investigators scour existing literature for best practices and/or standards to include in the reports, and the above-noted report is no different. For example, the report cites the "Rules of Engagement for Structural Firefighting" published by the IAFC. These are 11 rules for firefighter survival and 14 rules for incident commanders to ensure firefighter safety. Although these rules have existed in one form or another for more than a decade, the presence and essence of these rules will still be a bit of a mystery for many who are thrust into the job of a company officer or incident commander. But by including them in their reports, the NIOSH investigators are removing some of that mystery, thereby educating fire officers and helping to spread the message of the Rules of Engagement.
What Do We Do?
What are we to do with these risk management principles and the directive to implement them as fire officers and incident commanders? For one thing, as noted, they are for us to learn and understand, and not just in the classroom setting or in theoretical fashion, but practically and effectively for on-scene application in a manner that ensures timely delivery of effective firefighting services without unreasonable risk to our members.
We are also challenged to take the art and science of risk management in the fire service to the next logical levels. The advent of the incident safety officer is one of the best improvements in the fire service over the past decade, yet we've always relegated them to exterior operations. Does the development of new risk management principles now provide us with the rationale to work on developing interior status safety officers, providing safety coordinators and incident commanders with the same kinds of insights from inside a structure as they currently offer from their assessments outside? This is just one way to start thinking toward the next generation of risk management in the fire service.
Time for a New Approach
All in all, the most important element of NIOSH's concentration on risk management principles is the saving of firefighter lives; however, aside from the legal, social and economic costs of poor risk management, the fact is that we risk the lives of members when we don't adhere to these principles and other lessons provided in NIOSH investigative reports. Unfortunately, the reality of the fire service is that we are willing to take unreasonable risks; indeed, the public has come to expect it. NIOSH reports, however, illustrate to us, case by case, that we need to rethink our approach so that we more appropriately value the worth of our service members and provide for a more reasonable assessment of risks on the fireground.
Sidebar: Other Sources of Risk Management Principles
Company SOPs
Standard-setting organizations such as NFPA
Statutory, regulatory and case law
Fire department standards of conduct
Insurance company risk management suggestions and, more importantly, terms of insurance coverage
Our own diligence to apply common sense as well as the established rules of conduct
By Gregory V. Serio / immediate former chief of the Verdoy Fire Department in Latham, N.Y.