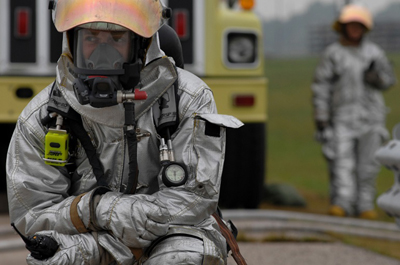 Firefighters' roles have expanded far beyond flames and into other areas of responsibility like hazmat response.
Photo courtesy of U.S. Air Force/Kenny Holston
As firefighters arrived on the scene, they knew they'd encountered something truly different that would test their accumulated skills. The lady had a snake under her rug. "I said to her, 'With all due respect, why did you call the fire department?'" said Phil Davis, a retired deputy fire chief from Elk Grove, Calif. "She said, 'Because I knew you'd come.'"
It's true. Rescuers want to rescue, and that ever-ready mentality has been the hallmark of fire departments for decades. (Cats in trees? No problem.) But that same can-do attitude has some policymakers thinking that firefighters can and will do anything.
In most fire stations today, putting out fires is merely the start of a day's work. In addition to the emergency medical services that have long been a part of the repertoire, many fire stations field their own specialized hazardous materials team. They perform skilled rescue operations from deep wells and swift water, deliver babies, engage in counterterrorism and sometimes even catch snakes.
Of the 31,854,000 calls to U.S. fire departments in 2012, only 1,375,000 were for fires. Medical aid accounted for the bulk of the rest at 21,705,500, according to the National Fire Protection Association. Hazmat, mutual aid, false alarms and other events made up the difference.
Some say this ever-expanding mission creep is dangerous, stretching resources too thin and diluting firefighters' ability to do what they do best. It seems reasonable to ask: How did we get here? What are the risks? And what's to be done about it?
In the News
What do firefighters do besides dousing flames? A scan of recent headlines helps demonstrate the degree to which fire stations have extended their efforts.
In July, New Mexico hazmat teams dispatched from local fire stations three times in a single week. In one case they tackled a suspicious package containing an unknown powder addressed to Gov. Susana Martinez's office. The letter contained court documents. Earlier that week, clerks in the Santa Fe and Tierra Amarilla courthouses had opened similar packages, with hazmat stepping in each time.
Last summer an Arizona monsoon sent firefighters on swift water rescues three times in under an hour. A man got trapped in his car, a woman was swept under a bridge and a teen boy got stuck in the middle of a wash.
In December, five Cornelius, Ore., firefighters won commendation for helping a woman deliver a baby in her car. And in September, firefighters in Brooklyn, N.Y., delivered Toni Davis' baby on the couch in her apartment. "God bless those firemen; they always come through for us," said new grandmother Arlene Davis.
Sometimes they even put out fires.
Gathering Momentum
The fire department's expanding role has been going on for decades. In the 1970s, doctors home from Vietnam began introducing emergency medicine into firefighting. Hazmat emerged in the 1980s, and in the 1990s, firefighters increasingly took on the role of technical rescue experts.
Lately the call for services has cascaded: Hazmat has come to embrace weapons of mass destruction, which has led to counterterrorism duty. Somewhere along the way, active shooter response got tossed into the mix. In the most extreme examples, some firefighters also serve as active police officers.
Much of this expansion is budget driven. With rescue professionals already on the payroll, some policymakers have seen a natural logic in saddling those professionals with additional rescue-related tasks (or at least roughly related).
Some of the phenomenon can be attributed to firefighters themselves: that can-do persona, that readiness to serve. And some of it's just lousy PR work. "The fire service hasn't a done a good job marketing itself," Phil Davis said. "There's still this wrong belief that firefighters are sitting around the station petting the Dalmatian and playing checkers. So when people at the highest level of government see a need, they'll say, 'Let's give it to the fire department, they're not doing anything.'"
Paying the Price
Some see a definite upside to all this. At the Sacramento, Calif., Metropolitan Fire District for example, Battalion Chief Steve Turner sees counterterrorism as a natural extension of firefighters' emerging role as a force for prevention. Heightened awareness of terror threats is a natural corollary to promoting smoke alarms. "If we see a box of chemicals, 10 years ago we wouldn't have known to take that seriously," he said. "Now we do know, and we have systems in place to take that more seriously."
But there's a price to pay: All these extra responsibilities come with added training requirements, said Kevin Spellman, retired captain of the San Rafael, Calif., Fire Department. By the time he retired in 2010, "we were spending considerable time on training to meet these ever-increasing federal requirements."
"The citizenry would get themselves into trouble, and when we responded we'd sometimes get ourselves into trouble. So the federal government said, 'Let's develop rules to protect us from ourselves.' Now you're spending a tremendous amount of time in the classroom, in addition to an increasing number of incidents you're responding to."
The pressure is especially strong on the 20 percent of firefighters who do this for a living. For them, training is mandatory, whereas volunteers can't be forced into a classroom. Yet without that added training, those volunteers can't be tapped to help meet the expanded operational requirements, thus putting more pressure on the careerists.
That demand for perpetual training weighs heavily on Paul Lurz, a battalion chief in the Baltimore County Fire Department, where work beyond the occasional house fire now includes hazmat, search and rescue, and work with the county bomb squad.
"One of our main challenges is the number of training hours required," he said. With multiple divisions and battalions, along with 25 paid stations and 33 volunteer stations, getting everyone trained takes much effort. It has a lot of moving parts, and everybody must talk to everybody else."
Most in the field agree that some cross-training does make sense. Emergency medicine, for instance, has been a part of the fire community for so long, no one really questions its validity. Hazmat too is largely an accepted discipline.
"These things make sense, but there comes a time when you reach the saturation point. Not everyone can be an expert in everything," Spellman said. Yet some people strive to do just that.
Wearing Two Hats
In addition to being fire battalion chief, Turner is a reserve deputy sheriff for the county. Some would call it the ultimate in mission creep, literally wearing two hats.
He recalls an incident in which a fire got complicated when the resident started screaming that her boyfriend had lit the blaze. "The focus is on the fire, when this guy shows up," said Turner, who kept operating the pumps until the man started a fight. "Then I took off my fireman hat, took on my law enforcement role, and took this guy under control, putting him into custody as a suspect in this fire." Specifically, Turner got the man on the ground, improvised handcuffs, secured the suspect in the fire truck and then returned to his hose.
With 25 years' firefighting experience and another 15 years wearing blue, Turner sees pros and cons. On the upside, he said, the expanded role gives people a chance to exercise a range of skills, giving departments more expertise to choose from depending on the need.
At the same time, juggling fire and police duties can get complicated for a department. Recruiting can be a challenge. "You need people with the capability and interest to do both jobs," Turner said. Even if you can find them, they tend to defect at a higher rate, as their interests push them one way or another.
Some say the dual-role scenario might work occasionally, but it generally isn't sensible to expand a firefighter's role all the way over into the yard next door.
"It's a completely different skill set to be a police officer," Davis said. "There's a fundamental psychological profile to this. Firefighters aren't enforcement people. They like being the good guy. They're helpers, they're rescuers. That's a big component in all this. Most firefighters don't want to be cops."
A Juggling Act
Want to or not, some will be cops, while others will rescue from rivers, analyze white powders and perform many other tasks that don't involve dousing flames. How is a fire department supposed to make it all work?
Lurz focuses on the training challenge, which he's tried to overcome by incorporating some learning aspect into the daily routine. "We try to have a culture where people come in and train every day," he said. "They're putting their hands on the equipment, they're documenting, they're drilling."
Often this requires crossjurisdictional cooperation, with many companies teaming up to leverage their ability to train efficiently. The department has a specialist who oversees training, while each battalion shift has a facilitator to coordinate learning exercises. "Is this a need that exists only on my shift, or does it exist at the battalion or department level? Your thinking process has to include identifying this training need in every context," Lurz said.
One common solution is to share a skill among multiple jurisdictions: A few hazmat experts from multiple fire stations, for instance, can come together as a single team, as needed. This helps to share the training burden.
Better PR would help too. "The fire department must be involved in the community, starting with the fire chief," Davis said. "The chief must be active in the chamber of commerce and service organizations so people can see what they do."
When all else fails, fire departments may need to check the mission creep by doing the unthinkable: saying no.
"They have to define their missions and level of service well, and they may have to set the bar lower in the level of service," Turner said. "There'll be sacrifices in staffing and response time. If that's the direction the community wants to go, there needs to be honest talk about what people can expect."
"You need to take a good hard look," Davis said. "If we're going to add more, what do you want us to stop doing?"
Adam Stone
Adam Stone is a contributing writer for Emergency Management magazine.
http://www.emergencymgmt.com/safety/Are-Firefighters-Spread-too-Thin.html