NFPA: Cardiac Issues Claimed Majority of Firefighters in 2014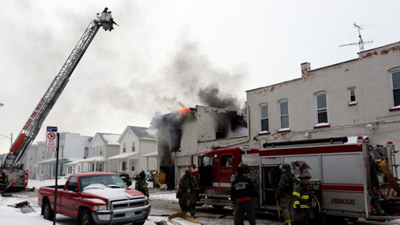 The report states that fireground deaths in 2014 were the second lowest since 1977. This arson fire claimed the lives of two firefighters in Toledo.
(Photo credit: AP Photo/The Blade, Jetta Carter)
More than half of the 64 firefighters who died last year were victims of sudden cardiac events, the highest number since 2008.
"Firefighter death rates have declined overall in recent years, with 2014 the sixth consecutive year that the total number of deaths was below 100," Dr. Rita Fahy, NFPA's manager of fire databases and systems, said in a prepared statement.
She released and discussed the annual report during a session at the NFPA's annual conference in Chicago.
Seven firefighters were killed in crashes last year, the second lowest number in the past 30 years. And, none were driving personal vehicles.
Of those who died:
34 volunteer firefighters
23 career firefighters
5 employees or contractors to state land management agencies
1 civilian employee of the military
1 member of on industrial fire department

The NFPA considers an on-duty death as someone engaged at scene of alarms, whether fire or non-fire (including EMS); while responding or returning; performing maintenance, training, public education, investigations and inspections as well as station duty or other functions that are assigned, but not fire related.

The document is being released as a study about firefighter health is underway at the Illinois State Fire Institute.

Fahy stated in the report that it's virtually impossible at this time to track and include deaths due to exposure and heart disease.

"The NFPA recognizes that a comprehensive study of on-duty firefighter fatalities would include chronic illnesses (such as cancer or heart disease) that prove fatal and that arise from occupational factors. In practice, there is no mechanism for identifying fatalities that are due to illnesses that develop over long periods of time. This creates an incomplete picture when comparing occupational illnesses to other factors as causes of firefighter deaths," Fahy said. This is recognized as a gap the size of which cannot be identified at this time because of limitations in tracking the exposure of firefighters to toxic environments and substances and the potential long-term effects of such exposures."

The number of fireground deaths in 2014 was the second lowest since the NFPA started capturing statistics in 1977 as well as the third time in the last five the the total was below 25.

Several firefighters died during training activities. Sudden cardiac death claimed seven firefighters – two during Work Capacity Tests, one during air management training, one during the fire department's annual physical ability test, one while returning from an off-site physical and agility test, one at the fire station for driver training and one during wildland training. One firefighter died of influenza while he was attending training out-of-state.

Other data showed those who died ranged from 21 to 84, with a median age of 52. While cardiac issues claimed two-thirds of the firefighters over 40 and almost all of those over age 60, two of the three firefighters in their 20s were felled by heart-related problems.

Fahy also reported two firefighters died in an arson, and another died following a false alarm.
BY SUSAN NICOL / SOURCE: FIREHOUSE.COM NEWS