An Inside Look At Police And Firefighter Active Shooter Response Training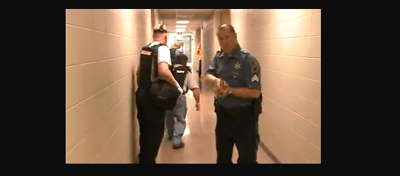 Due to the recent rise in mass shootings across the country, the Fort Wayne, Indiana Fire and Police Departments are teaming up for active shooter training to get firefighters to victims of mass shootings quicker.
"It used to be that we would wait until police officers rendered the whole building safe before we'd make entry and that was at the cost of the victims lying there waiting," Fort Wayne Fire Department Deputy Chief Adam O'Connor said.
The active shooter training will allow rescue task forces to go in to danger zones much sooner than they have in the past. Teams comprising of two police officers and two firefighters will go into areas of the building that have been cleared by the police to treat victims.
While the victims are being treated, other officers will continue to clear the building and track down the shooter.
"The first team will move on areas that are rendered safe. A second team of firefighters will come in and take victims out," O'Connor said. "We're working together to save more people."
Over the years, law enforcement's response to mass shootings has changed. And now, medical care has been added to the changes.
"We go in at the sound of gunshots. We don't wait for the SWAT team to arrive. We want to go in and stop the threat and stop the killing," Sgt. Todd Hammel with the Fort Wayne Police Department said. "Now we're going to bring medical care to victims much sooner than before. It's a great partnership with the fire department and the first partnership in the state to do this."
The two police officers teamed up with the firefighters are there to provide security for the firefighters and victims being treated.
According to WWLP, about 20 firefighters took part in the training sessions. The training sessions included classroom learning about Tactical Emergency Casualty Care (TECC) and drills with police officers and mannequin victims.
"It's battleground medical care triage. How do I save this person with the worst injuries first and get them removed," O'Connor said.
The teams that go into the building are mostly there to stop bleeding and make sure that the victims can breathe. There is a triage area set up outside to treat the victims further.
The firefighters participating in the active shooter training wore ballistic vests and special TECC medical kits. The fire department hopes to have 20 sets, one for each of the four firefighters on the five ladder trucks.
"We know these things do happen, and we would be remiss if we didn't prepare ourselves. Firefighting is all about preparation," O'Connor said.
firefightingnews.com