Take The Wheel for Firefighter Safety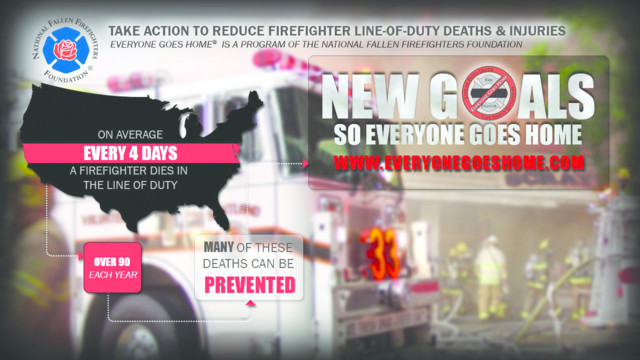 Editor's note: Discuss emergency response safety and NFFF's New Goals initiative to reduce firefighter line-of-duty deaths to under 50 annually in the following Firehouse.com Forums:
Has your department/crew taken the seatbelt pledge?
Does the type of call make a difference in how you fast you drive? Should it?
And find more information on the NFFF's New Goals initiative.
When the NFPA's report on 2014 firefighter fatalities was released last summer, it contained a bit of welcome news. "Deaths in road vehicle crashes, often the second most frequent cause of on-duty firefighter fatalities, continued low in 2014," the authors noted. "With seven fatalities, this is the second lowest number of crash deaths over the past 30 years."
This is a positive development for sure. A reduction in line-of-duty deaths (LODDs) in any category is reason to celebrate.
But delving deeper into the statistics, we can see that we may want to hold the champagne. Vehicle crashes were still the second leading cause of fatal injury for firefighters. Further, the total number of vehicle-related deaths was 12, including the seven fatalities mentioned earlier, two who died in aircraft crashes, and three who were struck and killed while operating on roadways. It doesn't even need to be said that each of these individuals was far more than a statistic, and that their deaths impact countless other people.
Fortunately, the means to prevent these deaths is absolutely within our control. Last month, I mentioned addressing the "low-hanging fruit"—causes of LODDs that have obvious solutions. Vehicle-related deaths fall squarely within that realm.
Common Causes
The USFA's Emergency Vehicle Safety Initiative has been working for more than a decade to educate first responders about the dangers of emergency response driving. Its 2014 report notes, "When looking at vehicle response crash data, statistics and case histories for fire, law enforcement and EMS, it quickly becomes evident that the causes of vehicle crashes across these disciplines are, for the most part, notably similar."
The report identifies 13 such common causes:
1 Excessive speed
2 Keeping the vehicle's wheels on the road surface
3 Safely negotiating curves
4 Passing other vehicles safely
5 Vehicle unfamiliarity
6 Driving in inclement weather
7 Avoiding and combating skids
8 Safe vehicle spacing
9 Vehicle backing operations
10 Driver distractions
11 Siren syndrome
12 Fatigue
13 Seatbelt usage
Borrowing a line from Gordon Graham, if it's predictable, it's preventable. Knowing that these common factors contribute to the vast majority of vehicle-related firefighter deaths, we can and must ensure that driver/operator training covers each of these topics in detail. We should also require periodic refresher training. Although driving generally improves with experience, we can easily become complacent, especially if we haven't personally experienced a crash or a near-miss.
Personally Owned Vehicles
Another topic well within our grasp: personally owned vehicles (POVs). Again, the numbers speak for themselves:
Since 2003, 52 volunteer/paid-on-call firefighters have been killed responding to or returning from calls in their POVs.
POV response accounts for the highest percentage of (13.4 percent) of volunteer firefighter fatalities.
32 percent of those killed in POV responses were 21 years old or younger.
These statistics are from a new report released by the International Association of Fire Chiefs and the National Volunteer Fire Council. Like previous publications from the NFPA and USFA, this report stresses that one critical step in reducing POV fatalities is for departments to adopt model POV policies—backed, of course, by strict enforcement. The report contains several model policies as well as a discussion of best practices. Some of the recommendations include:
Restrict POV responses geographically to avoid the need for long travel distances.
Require the use of seatbelts in POVs.
Adopt a zero-tolerance policy for drug and alcohol use and POV response, including legally prescribed drugs that may impair driving.
Require those who will respond in POVs to complete a driver training course that includes both a written and a driving test.
Require periodic vehicle safety checks.
Complete an initial and annual review of the member's driving record.
Eliminate or reduce POV response as much as possible within the department deployment model.
Roadway Safety
Each year hundreds of emergency responders are injured or killed while operating on roadways, usually at vehicle crashes. Although we can't control the actions of distracted and reckless drivers, we can take steps to improve our safety. Two of the most important are proper apparatus positioning (in conjunction with early warning devices) and wearing high-visibility vests.
Apparatus positioning is critical for protecting firefighters working at vehicle crash scenes and other roadway emergencies. Proper apparatus positioning improves visibility and protects firefighters when secondary crashes occur. The Emergency Vehicle Safety Initiative report mentioned earlier notes the following:
Use apparatus as a shield, placing them between the flow of traffic and the personnel working at the incident.
Create layers of protection by positioning additional emergency vehicles 150 to 200 feet behind the shielding vehicles. If available, use police vehicles to provide another layer of visual warning.
On highways, park fire apparatus at an angle so the tailboard protects the driver, and turn the front wheels away from personnel who are working at the incident. This will help prevent the apparatus from being pushed into personnel if it is struck from behind.
Position ambulances in a manner that protects the patient loading area from approaching traffic.
As for wearing vests, this is not just another meaningless regulation thought up by people who have no idea about the realities of emergency response. A University of Michigan Transportation Research Institute study demonstrated that pedestrians detect personnel who aren't wearing reflective clothing at 125 feet. That distance increases to 891 feet when personnel are wearing reflective clothing. Obviously, that greater seeing distance provides much greater stopping distance. The bottom line is that vests make a difference. It's worth the extra second it takes to put one on.
The Safety of Our Members Is In Our Hands
The Safety of Our Members Is In Our Hands
Lots is being done in the technological realm to improve emergency response safety, including traffic signal pre-emption systems, automatic vehicle location systems that can compile driver behavior statistics, and in-vehicle "intelligent" features like collision avoidance systems. But to expect technology to solve the problem of vehicle-related LODDs would be to ignore the central role individuals play in accidents—and the responsibility we have to make every ride, ever response as safe as possible.
For additional reports, best practices and driver training resources.
TIMOTHY E. SENDELBACH is the Editor-in-Chief for Firehouse. A 29-year student and educator of the fire and emergency services, he is responsible for the content and editorial direction of Firehouse® Magazine, Firehouse.com, Firehouse Expo, Firehouse World and related products. He has served as an assistant fire chief with the North Las Vegas, NV, Fire Department, as the chief of training for Savannah, GA, Fire & Emergency Services and as assistant fire chief for Missouri City, TX, Fire & Rescue Services. He is a credentialed Chief Fire Officer and Chief Training Officer and has earned a master's degree in leadership from Bellevue University, bachelor's degrees in fire administration and arson and an associate's degree in emergency medical care from Eastern Kentucky University. You can e-mail him at tim@firehouse.com.