Firefighters and cancer: Who will save them?
RALEIGH, N.C. (WNCN) – Firefighters are who we call when we're in desperate need of help.
But for hundreds in the fire service across North Carolina – the tables have turned.
They are now the ones in need because they are suffering from cancer.
Recent research is showing firefighters are getting cancer from their service to the community.
We now know with every fire they're called to, their chances of getting cancer increase.
"I can't imagine having another job. It's the best job I've ever had," said Raleigh firefighter Keith Kirton.
Kirton has been a professional firefighter for 17 years.
It's a job he dreamed of as a kid.
"It's just the same as every kid, they look up as a hero, being the tough hero man going into the burning buildings and stuff," recounted Kirton.
DEVASTATING DIAGNOSIS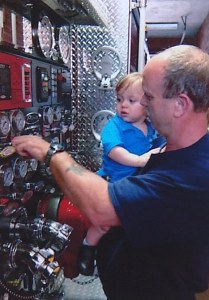 Kirton with his grandson
Then a diagnosis nearly took Kirton's dream away.
In November 2014, he learned he had kidney cancer.
"At one point my grandson, I was upstairs next to his crib, and I just leaned over and said, 'I've got to stay here. I've got to be here for you. I want to see you grow up.'"
In February 2015, Kirton had a quarter of his right kidney removed.
Thanks to an aggressive approach by his doctor, he was back to work in two months and cancer free.
But, during his time away from the fire station, he learned something that shocked him.
"A firefighter has a 29-percent higher risk over the general population of developing kidney cancer," said Kirton.
CANCER IN FIREFIGHTERS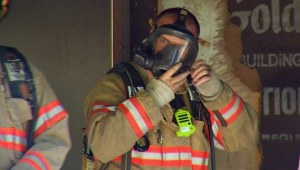 Firefighters aren't just at a higher risk of kidney cancer.
According to a multi-year study by the CDC and the National Institute of Occupational Safety and Health, firefighters have a significantly higher chance of developing more than a dozen different cancers than the general population.
"There's not a fire of any magnitude of any type that's not a carcinogen. Products of combustion are automatically carcinogens," said Tim Bradley, executive directory of the North Carolina State Firefighter's Association.
radley said the only way to prevent firefighters from being exposed to carcinogens is to not fight fires.
"They're exposed in layers if you will, of a variety of chemicals, many of which aren't designed to go together and create a toxic cocktail," said Cindy Ell, president of the International Firefighter Cancer Foundation.
Ell said cancer is quickly becoming the No. 1 killer of firefighters, despite an incomplete record-keeping system.
Cancer amongst volunteer firefighters isn't documented.
"We're losing vital numbers within the volunteer fire service and here in North Carolina, 84 percent are volunteers. So we're missing a big piece of the information that needs to be presented," said Ell.
INADEQUATE TURNOUT GEAR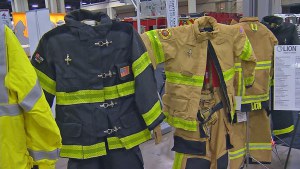 Jeff Trego is a veteran firefighter and salesman of fire service equipment.
He said there have been advancements in firefighting turnout gear over the years.
But, he adds that the fabric hood that covers a firefighter's neck has been overlooked and could be to blame for certain kinds of cancer.
"The neck and the ears, up underneath the chin where you're susceptible to thyroid cancer and skin cancer, because it's very sensitive, very soft skin without a lot of protection," said Trego.
A study conducted by RTI International in Research Triangle Park shows just how weak the hood is.
A firefighter was outfitted in routine gear and put in a smoke-filled room for 30 minutes.
The smoke was tinted with colored dye.
The firefighter was asked to perform normal actions like walking, crouching and lifting his arms.
After his exposure, he was placed under a fluorescent light that showed significant amounts of dye soaked through the hood to his neck.
"So if that dye can get past the turnout gear, the carcinogens that are in the house are getting past the turnout gear as well," said Keith Kirton.
TAKING ACTION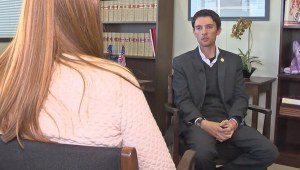 Rep. Jon Hardister with Carleigh Griffeth
The risk posed to firefighters is now being recognized.
At least 33 state governments have passed legislation called a "presumptive law."
"Presumptive law is basically a worker's comp issue and it assumes if you are a firefighter, an active firefighter, and you acquire cancer, that you acquired it on the job," explained Bradley.
Presumptive laws differ state to state, but generally entitle firefighters with cancer to worker's comp, disability, and paid medical expenses.
North Carolina does not have a presumptive law.
Firefighters here have to prove in court that their cancer was caused by their job.
"If you were in a truly fair system then you should say it's like a civil case, the greater weight of the evidence proves it. We're not in a fair system," said Bradley.
"A number of folks have had to basically exhaust their personal insurance. They've lost their homes. They've committed suicide. They've lost their families. And these are all things that shouldn't be happening from an exposure from service to your community," said Ell.
Some state legislators agree with Ell and Bradley.
Rep. Jon Hardister (R-Guilford) was a sponsor of the General Assembly's first attempt at a presumptive law in the 2015 session.
"Because firefighters risk their lives to protect us and they're certainly at risk of developing certain illnesses. And we need to provide them with protection," said Hardister.
HB 666 failed in committee.
It would have covered nine different cancers for municipal firefighters with at least five years on the job.
"I just don't think that we had laid the groundwork in committee ahead of time the way we should have, because to a lot of legislators this is an issue that they're not familiar with," said Hardister.
Cost was also a concern.
Most of the money would come from municipalities.
But according to the National Council on Compensation Insurance, you can't predict how many firefighters would take advantage of the law, so you can't predict the price.
"The work on presumptive cause is not done. We're certainly going to try again next year," promised Hardister.
There was an addition to the budget this past session that is considered a win for firefighters.
Three types of cancer were added to the firefighter line of duty death benefit.
That means if a firefighter dies from a certain type of cancer, his or her family will receive $50,000 in compensation.
"Firefighters have expressed concerns to us, as I say there's been more medical research now, and we know that there's a correlation particularly among these rare cancers and exposures that firefighters have," said Rep. Nelson Dollar (R-Wake), who was instrumental in getting the addition to the death benefit.
MAKING CHANGES OF THEIR OWN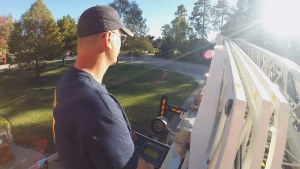 Raleigh firefighter Keith Kirton

While legislators fight for progress in the house, firefighters fight for progress in the station.

"It's a matter of getting the new people, the new recruits coming in to understand what needs to be changed," said Kirton.

Kirton works with Raleigh fire officials to educate first responders about the risks they face.

He said it's slowly sinking in.

"Something that used to be a badge of honor: the dirtier the gear the better, the more manly you were, the more of a firefighter you were. But now it's more a scary thing," said Kirton.

Presumptive law or not, he, like so many others, will keep working to save as many firefighters as possible.

"Can we eliminate cancer in the fire service? No. Can we minimize the chances of getting it? Absolutely," he said.

Firefighter advocates are working to institute nationwide changes in the fire service when it comes to how dirty gear is handled and how often it is washed.

New fabric hoods are also being innovated to keep out almost 100 percent of carcinogens.

And, while firefighters lobby for presumptive laws in states like North Carolina, they said their biggest challenge is changing the fire service culture.

It has proven difficult to get firefighters to talk about cancer and seek out help when they need it.

There are many organizations that provide help.

Kirton volunteers with the Firefighter Cancer Support Network of North Carolina, and Ell helps firefighters everywhere with the International Firefighter Cancer Foundation.

By Carleigh Griffeth Published:
November 18, 2016, 9:13 am