Anxious Victim Fractures Firefighter's Back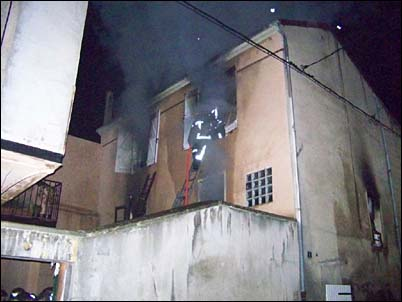 A house fire late Tuesday night 12/16/09 in Roanne, Loir, France led to a serious injury to a firefighter who was making a rescue. The fire was in a 3-story home in town and had trapped a 56-yr.-old woman and her two daughters ages 16 and 20.

As the firefighters arrived, one of the two daughters appeared at a 3rd-story window calling for help. The city of Roanne firefighters raised a ground ladder to the window to reach her. Scared and in a panic, when she saw her rescuer coming up the ladder to save her, she threw herself out the window onto the firefighter, causing both of them to fall to the ground, a distance of several meters.

The 28-yr.-old caporal chef (senior corporal) suffered broken ribs and fractures of two spinal verterbrae. The firefighter and both daughters were hospitalized. The mother was found in a search of the house, but she had perished in the fire.
This article provides a good training example: Always expect the unexpected !!!