Transferring Flammable Liquids
Since there is a sizeable risk whenever flammable liquids are handled, OSHA allows only four methods for transferring these materials:
Through a closed piping system
From safety cans
By gravity through an approved self-closing safety faucet
By means of a safety pump
Self-Closing Safety Faucet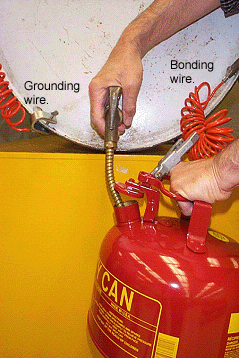 Bonding wire between drum and container.
Grounding wire between drum and ground.
Safety vent in drum.
Safety Pump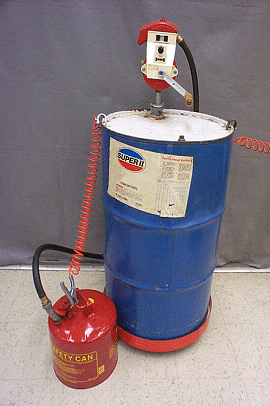 Faster and safer than using a faucet.
Spills less likely.
No separate safety vents in the drum are required
Installed directly in drum bung opening
Some pump hoses have integral bonding wires
Waste and Residue
Combustible waste and residue must be kept to a minimum, stored in covered metal receptacles and disposed of daily.
| | | |
| --- | --- | --- |
| Waste drum with disposal funnel | Safety disposal can | Oily-waste can (self-closing lid) |
Safe Handling Fundamentals
Carefully read the manufacturer's label on the flammable liquid container before storing or using it.
Practice good housekeeping in flammable liquid storage areas.
Clean up spills immediately, then place the cleanup rags in a covered metal container.
Only use approved metal safety containers or an original manufacturer's container to store flammable liquids.
Keep the containers closed when not in use and store away from exits or passageways.
Use flammable liquids only where there is plenty of ventilation.
Keep flammable liquids away from ignition sources such as open flames, sparks, smoking, cutting, welding, etc.
Remember:
The two primary hazards associated with flammable and combustible liquids are explosion and fire.